Introduction
30% Brighter LCD Screen
Compared to previous model (DG-3), DG-3x has TFT liquid crystal whose brightness has increased by 30%. The view angle has expanded and the visibility rate has improved.
You can improve accuracy of analysis by using high resolution image taken with 2.3 MP CCD which can meet a wide variety of needs from observation at the site to research and development.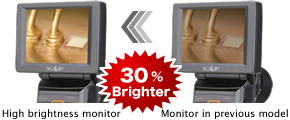 Scales, grids and magnification indicators on a screen
Scale and magnification are shown at lower right of the monitor. You can clarify magnification of the object at the time of shooting by making it a yardstick of the size of the object at the time of viewing or by recording the object while indicating scale magnification ratio.
By using the 7 additional scales (with Grid Editor software), you can confirm quality acceptance/rejection criteria and size of the problematical part which are difficult in judgment at the site, the finish of the product and so on.
Versatile function
Light and easy to carry

With its compact design, it is as light as 490g. (When battery and CF card installed) Power source is a lithium-ion battery or an AC adaptor. You can shoot a magnified picture everywhere you want.

Touch and View

Just touch the lens to the object and you can take a picture easily. You can observe an object as it is even if the object is difficult to carry or even if it cannot be disassembled, cut or processed.

Data can be put into a CF card.

Recorded JPG data can be connected with outside devices including your PC printer thanks to the CF card.
Output to an outside monitor

Many people can view the image together with TV monitor. You can record moving pictures if you connect DG-3x to a DVD recorder.

Easy to focus

You can confirm focus if you zoom the image on the monitor temporarily before you pop the shutter. A focus indicator shows how the adjustment condition of the focus is. Anyone can shoot a vivid image easily.
Options

You can construct the most suitable observation system to achieve the purposes by using various lenses of different magnification and lighting methods. Compatible with a C-mounted lens, an endoscope and a microscope too.

Lenses

Standard Lens(30x /50x /100x /200x lens)
High Resolution Lens(100x /200x /500x /1000x lens)
Micro/Macro Lens(0x ¡Á 30x Lens)
Bore Lens(with a side-mirror tube)
Zoom Lens (25x ¡Á 200x)
Coaxial illumination unit

Lenses of other companies can be used via C-mount adapter.

Attachment for microscope
Industrial fiberscope
Industrial borescope

Stand
Content of Basic Set
Cordless Microscope DG-3x
Users' guide for Grid Editor Software
Grid Editor Software(CD-ROM)
CF memory card(256MB)
C mount adapter and C mount cap
Video output cable
Rechargeable lithium-ion battery
Battery charger & AC cord
AC adapter
Neck strap
Users¡Ç guide
Carrying case
Specifications
Image capture element
1/1.75 inch interlace scanning CCD
(Aspect ratio 3:2¡¡RGB original color filter square pixel)
Pixels
Total pixels approx. 2.3 MP(1901 (h)¡ß1212(v))
Effective pixels approx. 2.16MP(1816 (h)¡ß1208(v))
Mount
Scalar DG mount (C-mount compatible with C-mount adapter attached)
Shutter speed
1/45-4 sec
Storage
CF memory card
¡üNORM mode¡§1792x1184 pixels, approx. 500KB
¡üFINE mode¡§1792x1184 pixels, approx. 900KB
¡üZOOM mode¡§ 896x 592 pixels, approx. 500KB
CF memory card number of recordable images
¡üNORM mode¡§approx. 638 images with 256MB
¡üFINE mode¡§approx. 283 images with 256MB
¡üZOOM mode¡§approx. 638 images with 256MB
¢¨Number of images will depend on type of images captured.
Monitor
3.5-inch 230,000 pixel TFT LCD(960x240 dots)
Video output
NTSC
VIDEO OUT terminal
3.5mm monaural mini-jack(LCD monitor side)
REMOTE terminal
2.5mm stereo mini-jack(doubles as external flash cynch)
DC IN terminal
EIAJ standard type-2 DC jack(center plus)
Light switch
Light A, light B interchangeable for lenses with built-in light sources)
Output
voltage 5V, maximum output current 250mA
Input
voltage DC6.0V¡Þ5% 1A; battery operation:6.0V-7.2V¡Þ5%
Power consumption
approx. 6w (microscope only)
External dimensions
98¡ß201.5¡ß68mm
Battery running time
Consecutive monitor use: 1 to 1.5 hrs (depends on use settings)
Consecutive recording: 1hr(depends on use settings)
LED for power check
Power on¡Ägreen LED on
Low battery ¡Äred LED on
Power off¡Ä both LEDs off
Weight
approx.370g(microscope only)approx. 490g(with battery and CF card)
Installation screw
Camera screw
Operating environment
0 to 40¡î
Storage environment
-10-55¡î
Operating and storage humidity
30-85%(no condensation)
Applications
Usable Scenes

If you need to

observe the object in the production line.
observe the object which you cannot move.
observe the tip of the edge of a machine that you cannot remove.
use it outside the building without any power source.
use it while you are on a business trip.

DG-3x is ideal choice. Optional stands are available as well.
Examples of application
Car-related and machine-related objects

Nest, crack of forged products for cars
Surface finish condition of dies, surface condition of machined parts
Crack and pinhole of various parts
General defects of forged products
Foreign material identification of car body painting surface
Scratch, crack, dent, etc. of each part of cars
Surface finish condition of die machining
Crack, scratch, dent, etc. of car body painting surface
Scratch, burr, etc. of cylinder head during processing
For evaluation of fatigue test of metal materials of car parts
Scratch and inner observation of the inside of car engine parts
Confirmation of crack within resin molded parts
Confirmation of crack/pinhole of parts
Observation of wear and tear of cutting tools and grinding tools
Observation of welded condition
Surface observation of metal processing

Medicine manufacturing-related and bio-related objects

Identification, etc of tablet surface scratch, granular forming condition of granular agents, foreign materials and so on
Cosmetic development-related and skin observation, etc.
Inner surface treatment condition within a cultural tank
Analysis of foreign materials
Surface observation of a gelatin capsule (confirmation of liquid leak)
For maintenance of machines
Analysis of foreign materials

LCD-related and electronic parts-related objects

Confirmation of crack of LCD module and disconnection of flexible PCB
Check of disconnection of LCD module PCB
Observation of dirt and dust of £ÐCB(measures for claims)
Glass PCB of Plasma TV
Analysis of defects in soldering of IC lead

Plate making and printing-related objects

Condition of scratch on film making roller surface, for maintenance purpose
Observation of functional film surface, observation of scratch
Observation of appearance of Tetoron film
Observation of ink attachment in printing materials
Confirmation of defective crimping of films

Others

Maintenance of pipes at a plant
Observation, etc. of equipment deterioration within an electric power plant
Gallery
Using Side Light Zoom Lens
Side Illumination(Light from circumferential direction)

¡ÚClick to Enlarge¡Û Magnification is indicated in the lower right of each pictures

One-Sided Illumination(Light from one direction)

¡ÚClick to Enlarge¡Û Magnification is indicated in the lower right of each pictures

Examining a metallic worked surface

¡ÚClick to Enlarge¡Û Examining a nickel-based superalloy with a grating in the center using Coaxial Illumination Lens Holder Unit at 100x