Introduction
MicroMeasure allows you to...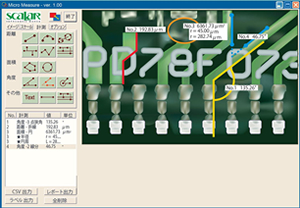 Measure Magnified Images and Make a Report with Easy Steps.
Measurement Functions
Distance between 2 Points
Distance of an Arc
Distance from Circle to Circle
Distance of Perpendicular Lines from a Standard Line
Distance of a Broken Line
Distance between Parallel Lines
Area of a Polygon
Area, Radius and Circumference of a Circle
Degree of an Included Angle between 3 Points
Degree of an Included Angle between 2 Lines
Degree of an External Angle between 3 Points
Text Input
Drawing Standard Lines and Parallel Lines
Data Saving
Exporting data to CSV
Saving an image with labels as JPG or BMP
Making a Report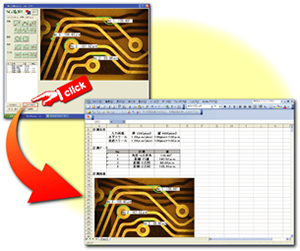 Making a report with an image and measured results in Microsoft Excel worksheet with just one click.
Content of Basic Set
MicroMeasure
Operation Guide
USB-Key
CD-ROM
* Please be careful not to lose the USB Key
System Requirements
| | |
| --- | --- |
| Monitor Resolution | 1024(dot) x 768(dot) or greater |
| OS | Windows XP(32bit) / Vista(32bit) / 7(32&64bit) |
| Application | Microsoft Office 2000/2003/2007/2010 |
* Without Microsoft Office, "Save Data & Img " does not work
Download

You need Adobe Acrobat Reader to open PDF files.
Trial Version
Manual
Upgraded Version for users of MicroMeasure Version 1.00, 1.02, 1.03, 1.04 or 1.05
WindowsXP /Vista / Windows7

MicroMeasure v.1.06 (Small bugs fixed)

* Uninstall v.1.00, 1.02,1.03,1.04 or 1.05 before you install v.1.06.
(Calibration data may be lost when you uninstall v.1.00, 1.02, 1.03,1.04 or 1.05.)

* Click Download button to download.
"MicroMeasure_1.06_InstallDisc-E.exe". Double click it to make a new folder named "MicroMeasure_1.06_InstallDisc". Double click "Setup.exe" in "MicroMeasure_1.06_InstallDisc" folder to upgrade.