Introduction
World's First HMD with Auto Moving Display
An ultra-small display placed at temple of your forehead moves to front of your eye with easy operation whenever you want to use Teleglass.
Compact body is only 35g. Since T3 is for single eye, you can see around you at the same time.
28 Inches Monitor 2 Meters Away
Image from T3 is equivalent to a 28-inch screen located 2 meters away from you. And it also does not prevent you from seeing your aroud. 80,000 pixels(320(H)×240(V):approx. 230,000 picture elements)

Glasses included in a Set
Glasses with domestic titan frames is included in this set.
Full Options Set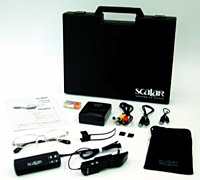 This set includes conversion cables, glasses and so on and comes with a hard carry case.
Content of Basic Set
Teleglass T3 full set T3-F
Teleglass T3-A body (Battery box)
Carrying case
Glasses Pouch
Glasses
iPod conversion cable
DG3 conversion cable
RCA conversion cable
Guard arm
Nickel hydrogen batteries (with charger)
Manual
Specifications
| | |
| --- | --- |
| Imaging input | VBS 1.0Vp-p 75Ω(NTSC input) |
| Audio input | Audio(L/R) Input impedance 33KΩ |
| Input terminal | 3.5φ AV input terminal(3P) |
| Display element | 0.24-inch approx. 80,000 pixels(960(H)×240(V):approx. 230,000 picture elements)The image is equivalent to 28-inch screen 2m away from you. |
| View angle | 20 degrees(2θ) |
| Audi output | Audio(L/R)28mW+28mW (32Ω) |
| Output terminal | 3.5φ3P stereo output (2P) |
| Continuous duty time | Approx. longer than 4 hours (alkaline dry cells) |
| Power | Two AA batteries (alkaline or nickel) |
| Working conditions | Temperature:0℃ - 40℃ / Humidity:10% - 80% (Non condensation) |
| Weight | Approx. 35g, battery box approx. 22g (excluding batteries) |
Applications
Enjoy movie with portable devices

Teleglass can work with any devices that send out NTSC signals. You can enjoy movies and images any time and anywhere. Have good time seeing a movie or listening to music while you are moving a long distance on a train, an airplane, a ship, etc. during your trip, or a business trip or a long commuting.

NOTE) Please contact us when Teleglass doesn't work with your device.

Connect to Scalar products

If you connect Teleglass to Scalar devices, usage for industrial fields increases greatly.
When you cannot see the monitor well while you are using a microscope or an industrial endoscope, etc, or when it is difficult to see LCD under the sun light, Teleglass can help you to solve such problems.

In addition, Teleglass is indispensable when you make an inspection, etc. in case of disasters, on a business trip or at the place where a monitor is unavailable.
You can use it for a variety of fields such as beauty solon fields or medical fields according to the usages.

Suitable for an ultra-low angle monitor or a high angle monitor

Teleglass T3 is suitable for an ultra-low angle monitor or a high angle monitor.If you connect it with the AV output of a digital camera or a video camera, you can shoot a pet or flowers without stooping down.
A picture at low angle in particular is harder work than we imagine but Telegrass T3 enables you to shoot a picture easily even at such low position. We actually introduced Teleglass to several persons who were taking pictures of flowers at a park, we got good reactions from them because they do not need to buy a camera for low angle and the price of it is rather reasonable considering its versatility.

Application Example

These 2 gentlmens often take pictures from paragliders. But since they could not check their photos on flight, they used to get down to the ground and then check them.
They found and purchased Teleglass and they are using it. Now they can check pictures immediately after they take and since the monitor of T3 moves to the side when don't use it, it is very convenience for them.
FAQ
What is Teleglass?

Teleglass is an ultra-small monitor which can be attached to your glasses, receives NTSC video signals. Usual head-mounted displays (HMD) used to be the one which covers your sights completely and were not comfortable. But Teleglass is downsized and you can use it easily as if you wore only glasses.

What are the major applications?

You can use Teleglass as a video monitor of a variety of devices which have video output. For example, by connecting it with our microscope DG-3 which has NTSC video output, it will be much more easier to see the image of very high or very low places because DG-3's monitor is placed at its main body.
Of course, you can enjoy Teleglass while you are commuting.

What is the resolution?

The resolution of T3 series is about 80,000 pixels(320(H)×240(V):approx. 230,000 picture elements). The resolution is good enough to see the caption of DVD movies.

What kind of device can it be connect with?

Teleglass can be connected with any devices that have NTSC video output that include Scalar's microscopes, video camera, various measuring devices and others. In addition, you can use it as a monitor screen of a portable video player such as iPod of Apple Computer and a DVD player. ※iPod is a product name of Apple Computer.

Can it be connected with iPod?

Teleglass can be connected to iPod which is 5th generation or older.
For 6th generation or newer model, please contact us. We will introduce a device which can be an adaptor between iPod and Teleglass.

Can it be connected with PDA?

No, basically. If PDA has a built-in function that outputs NTSC video signals, it can be connected with Teleglass. But you will need a conversion cable.

Can it be connected with a cell phone?

No, basically. If your cell phone has a a NTSC video output, it can be connected with Teleglass. But you will need a conversion cable.

Can it be connected with a PC?

It cannot be connected with a PC as it is. You will need a down scan converter to convert signals into NTSC.

How long does T3 series work?

T3 series works for longer than 4 hours with two AA alkaline batteries. AA nickel hydrogen batteries can also be used. They can be used longer than alkaline batteries.

Can a person with bad eyes use it? (Near sight/distorted vision/far sight/old sight)

You can see the screen easily if you adjust it to your visibility.

Does long use of it affect our eyes?

Just like you usually get tired if you watch TV for a long time, take it that your eyes get tired if you use your teleglass for a long time. If you use it, try to take a proper rest. In addition, see to it that children under 13 years old will not use it.

Does it have a built-in TV tuner?

No. We will take it as an important reference to develop our new products in future.

What is the warranty?

1 year warranty.

Can we attach T3 series to any glasses?

You can attach T3 series to general glasses by a furnished attachment. Consult us first because we cannot meet special frames including special shape and size from time to time.