Introduction
Easy operation by using only a magnification dial and a focus dial
A camera with 410,000 pixel color CCD enables you to realize 460TV or higher horizontal resolution.
Suitable to check IC, thread, printing materials, painting surface and blade
Bright and vivid images at any magnification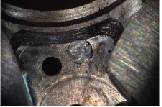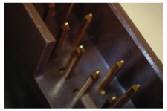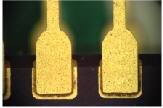 Small, light and easy to use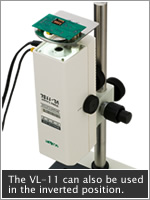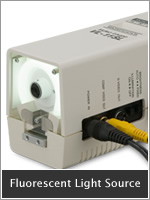 Small (85¡ß80¡ß205mm), light ( about 600g) body is easy to carry.
A small ring light (fluorescent light) enables you to realize steady and even light with high color repeatability.
No need to change lens
You can continue to magnify the image from 1x to 400 x magnification on a 14-inch video monitor. (900 x magnification can be realized on 32-inch video monitor.¡Ë
* VL-11SL model goes up to 200x.
Content of Basic Set
Operating Distance

| | | |
| --- | --- | --- |
| | VL-11S | VL-11SL |
| 50x | 16 mm | 41 mm |
| 100x | 9 mm | 28 mm |
| 200x | 5 mm | 22 mm |
| 300x | 3 mm | - |
| 400x | 2 mm | - |
Field of View
VL-11S
VL-11SL
50x
5.2¡ß4.0 mm
100x
2.6¡ß2.0 mm
200x
1.3¡ß1.0 mm
300x
0.87¡ß0.67 mm
-
400x
0.65¡ß0.5 mm
-
Specifications
Imager
1/3-inch, 410,000-pixel CCD camera
Light Source
5W ring fluorescent lamp
Power Source
AC100V 50/60Hz
Image Output
NTSC system Video output: RCA jack/S jack
Resolution
460 or higher horizontal resolution
Environmental Conditions
Temperature:0-40¡î Humidity:¡§40-80¡ó(No condensation)
S/N Ratio
48dB or higher
Exposure Control
Electronic shutter, automatically variable between 1/60-1/10000,
1/100 flicker-free
Outside Dimensions
85¡ß80¡ß205mm(when the stage is stored)
Weight
Approx. 600g
Scan Mode
2:1interlaced, 525 rows, 60 fields
Tripod Mounting Screw
1/4-20 UNC
White Balance
Fixed when the light is ON; automatic when the light is OFF
Magnification
VL-11S: 1-400 x magnification infinitely variable (on a 14-inch monitor)
VL-11SL:1-200 x magnification infinitely variable (on a 14-inch monitor)