Introduction
Changeable Lenses
Battery Operated
With our efforts of saving a lot of power, VL-5 works with 2 AA batteries. You are free from an AC power source.
Small, Slim and Light.
Its pen-shaped slim body only weights 120grams with batteries in it and provides clear-cut image.
For Beauty salons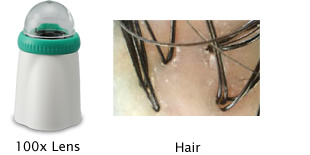 100x lens is good for hair check.
For Esthetic Salons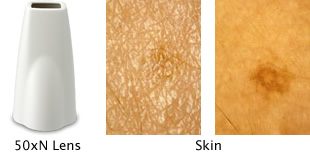 50xN lens provides both normal image and poralized image. Suitable for skin check.
オプション

50xN Lens
For Skin Check (Poralize and Non Poralize)
* included in 50xN Set
100x Lens
For Checking Hair
* included in 100x Set
Content of Basic Set
50xN Set(For Skin Check)
Main Body
50xN Lens
2AA Batteries
100xN Set(For Hair Check)
Main Body
100xN Lens
2AA Batteries
Specifications
| | |
| --- | --- |
| Imager | 1/3-inch 510HCMOS sensor |
| Effective Sensor Resolution | Approx. 250,000 pixels |
| Signaling Type | 2:1 interlace NTSC |
| White Balance | Fixed |
| Recommended Battery | Two AA alkaline dry cells, approx. 3 hours |
| Duration | With two AA nickel metal-hybrid batteries, approx. 6.5 hours |
| Light Source | White LED |
| Dimensions and Weight | 29mm (W) x 176(D) x 34mm(H), 120g (including alkaline dry cells) |