Introduction
High resolution, excellent color reproduction
High quality image of VL-7EXII are loved by many users in cosmetic market for years.
2 image-replay & Split Screen View
You can compare images easily by the dual partitioning functions.
Wide variety of lenses
Lenses from 1x up to 750x enhances enhance skin and hair analysis.
Polarized Lenses
With 30x and 50x lenses, you can see both polarized and non-polarized images. Good to check textures and pigmentations of your skin.
Various Basic Sets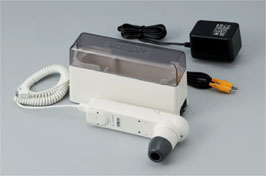 Video Loupe VL-7EXll series have a variety of combination of lens depending on the purposes of the use. VL-7EXII works with PC with video capture module of third-party,
For Beauty Salons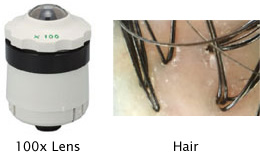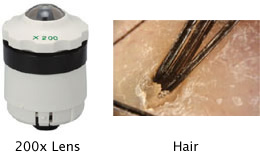 For Esthetic Salons / Cosmetic Shops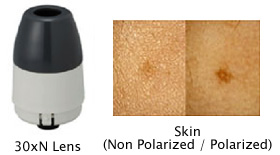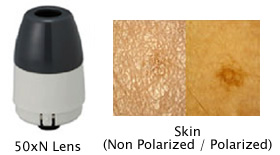 Optional lenses

| | |
| --- | --- |
| 0x Lens | For styling check |
| 30xN Lens Polarization/Non-polarization Lens | For a check of skin(texture/pigment spots) * Included in VL-7EXll-30 set |
| 50xN Lens Polarization/Non-polarization Lens | For a check of skin(texture/pigment spots) |
| 100x Lens | For a check of scalp |
| 200x Lens | For a check of scalp * Included in VL-7EXll-200set |
| 750x Lens | For a check of cuticle |

(Magnification is based on the 14-inch video monitor.)
Content of Basic Set
VL-7EXll-200 set(for hair-check)
Probe
200 x magnification lens
Stand with power source
Camera cable
AC adapter
RCA cable
VL-7EXll-30set(for skin-check)
Probe
30 x magnification polarized/non-polarized lens
Stand with power source
Camera source
AC adapter
RCA cable
Specifications
| | |
| --- | --- |
| Imager | 1/3-inch CCD image sensor |
| Output Image Signal | NTSC |
| Effective Pixels | 768(H)×494(V) |
| Scan Mode | 2:1 interlaced |
| White Balance | Normal mode:automatic control / when light switch is pressed: Fixed (when light is on) |
| Memory | Normal mode: 2 field still images /when PLAY.REC switches pushed at the same time for 2 seconds: 2 frame still images |
| Operating Temperature Range | +10℃ - +35℃ |
| Operating Humidity Range | less than 70%(non condensation) |
| Power | AC100〜240V±10% |
| Power Consumption | less than 10W |
| Illumination | Utra small high illumination lamp |