Introduction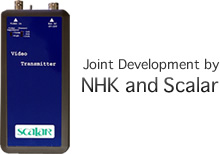 VT-100 is Wi-Fi video transmitter system which is for monitoring video in real-time on tablet devices , such as iPhone, iPad and iPod touch . The video signal input into VT-100 is compressed in real-time and output to tablet devices with WiFi IEEE802.11b/g/n
Sharing image with other devise users via Wi-Fi

By using Wi-Fi (wireless LAN), you input video signal (NTSC) from the camera into VT-100, and then transmit the image to the tablet devices such as iPad .
The data is exchanged on the local network and the area receivable of the signal is several ten meters from the transmitter. JPEG CODEC is used for immediate display on coding scheme in order to achieve low latency. It operates with battery and you can carry around anywhere due to small and light weight (about 150g)
Avoid interference by the channel change
Wi-Fi products have 11 channels from 1 to 11ch in the radio wave of 2.4GHz band
Many products are initialized with 6ch and the interference becomes noticeable where the radio wave of the 2.4GHz band is often used such as the exhibition venue.
VT-100 is equipped with a switch that can change the channel in order to avoid this interference. You can change the channel according to the situation with any of three channels of 1ch/6ch/11ch.
Monitoring at the same time as the video transmission
You can not only to confirm the camera image transmitted via VT-100, but also, if you want to see in the monitor, you can attach the T-branch to the video input terminal and branch the signal to the monitor and also to the VT-100.
As the result, the monitor images become darker, so it is possible to brighten the monitor image by providing a switch for setting the impedance. This makes possible to confirm video with the monitor at the same time to transmit the signal to the VT-100.
Application of the monitor side is provided free of charge
The software of monitoring side (receiving application) is available on App Store free of charge, so the introduction cost is unnecessary. You may install the app in the monitor (tablet), and can transmit video to up to 253 units of iPad/iPhone with one VT-100. It is also possible to capture the image in the application side Viewer software (Applications) have been distributed by the App Store .
iPhone Viewer software :AirMicro
iPad Viewer software :AirMicroPad
PC Viewer software :Windowsversion
Attention of VT-100 application configuration
If the item of "Security Enable" in the item "VT-100/VT-100S" in the configuration "AirMicro" and "AirMicroPad" is set to "on", you cannot connect VT-100 with iOS terminal. It is a set only for VT-100S, so please use VT-100, after you have changed the setting to "Off"
Ideal for video conferencing and TV conference
When the screen is hard to see for people sitting in the rear seat at TV or Video conference in the big meeting room, you can surely share in the image with others by transferring it to the iPad, iPhone with VT-100 from any seat in such a case.
Maximum number of simultaneous connections is 253 units.
The number of connections is attractive.
It is possible anytime to capture the slides of PowerPoint when the scene is important on the iPad and iPhone and to record them without missing information.
It supports a variety of video equipment

This product can be connected with any video equipment as long as the equipment can output NTSC video output signal.
For example, hands-free environment also can be built by connecting the Teleglass T3 to iPhone. The conversion adapter to NTSC signal is required separately when connecting
VT-100 will play an active part greatly not only with our micro-scope products as well as T3, but also in the field to use the image such as crime prevention and surveillance cameras and TV cameras.
It can be introduced easily at low cost, so a new inquiry is expected in various fields.
Joint development of Scalar and NHK
The relay sites on televisions use a monitor to confirm the image photographed by the camera and video being broadcast, but there was a problem in connecting a wired cable to the camera. You must carry around a large and heavy monitor device. You need to work handling of cable. You can see the monitor only that is connected to the cable and it is not possible for more than one staff to see what flows in the video.
Although there have been needs before for an announcer and field staff to watch and listen the monitor of a small and lightweight in such relay sites where mobility is required, there was no system of low latency at a low price before.
In response to the request in the fall of 2011 from the NHK production technology section, Scalar has released the VT-100 in the form of joint development.
This product has been developed by adopting Air Chip of Scalar product wireless LAN module as a transmission chip and Scalar has achieved the development of low-cost unprecedented. At present, it demonstrates the power on recording on location and relay program moving often such as the TV program named "Looking around aimlessly at lunch time " and " live Hokkaido" .
Specifications
Basic Specifications
Item
Specification
Remarks
Input Signal
NTSC
BNC terminal (75 Ω/High Switching)
Output Signal
IEEE802.11b/g/n
2.4GHz band
External power supply
1 DC12V (4〜20V)
2 USB5V
1 Tajimi PRC05-R03M
2 USB Mini(B)
Internal power supply
AA x 4
Nickel-metal hydride rechargeable battery
Eneloop Pro Recommended
Replacement method
Without internal charging function
Power Switch
Toggle switch
LED Indicator
LED (Green)
Data Format
AirMicro compatible
Power Consumption
Approx 2W
Operating temperature
0〜40℃
Case Material and Color (Rohs Support)
ABS
Dimension
80(W)x27(H)x165(D)
Excluding protrusions
Weight
Approx 200g
Excluding battery
Basic Specifications
Item
Specification
Wireless LAN module
Technical standards certification (Technical Conformity) granted U.S. FCC, Canadian IC certified
Specification
IEEE 802.11b/g/n
Communication frequency/Channel
2.4GHz band 6ch
(1, 6, 11ch are supported )
Transmission Power
802.11g/n OFDM 15dBm
802.11b CCK,DSSS 17dBm
Throughput
4Mbps or more (It will vary depending on radio wave conditions)
Wireless LAN Security
Without
Antenna
Built-in Chip Antenna
Connection
Fixed Ad Hoc SSID (Manual setting of static IP address for the receiving side)
Protocol
UDP
Laws and regulations
Using a wireless LAN module of technical standards certified
Must obtain a standard except Japan, the United States and Canada
Components
| | |
| --- | --- |
| Item | Specification |
| Body | VT-100 |
| Conversion connector | BNC-RCA Conversion |
Others
We provide the following as the viewer software (application)
iPhone Viewer software :AirMicro
iPad Viewer software :AirMicroPad
PC Viewer software :Windowsversion
※You can download the above app free of charge from the AppStore.